Museum Idyll blessed
The Philippine Province of the Good Shepherd Museum Idyll was blessed and opened last October 30, 2011 in Quezon City. A garden museum that honors women, Museum Idyll is a creative visualization of the Centennial of Good Shepherd Presence in the Philippines rendered through, symbols, photographs, some artifacts and plants that are important in the history of the country.

Photo: Museum Idyll
The Heritage Committee of the 2012 Centennial and Ms. Marian Pastor-Roces, a well-known curator collaborated on the project, to depict the struggles and victories of women and the vision of St. Mary Euphrasia, in faithfully following the footsteps of the Good Shepherd by reaching out to girls and women in difficulties.
Ms. Marian Pastor-Roces with her TAO Management Inc., gave a comprehensive plan for Museum Idyll and what was blessed was only the introductory phase.
Photo: Good Shepherd Sisters Rosario Battung, Maureen Catabian, Joh Panem, Amelia David, Rose Ababao and Ananita Borbon.
GS Heritage Committee
The Good Shepherd Heritage Committee was created as part of the 2012 Centennial. Members include, Sr. Natividad Lucero, Sr. Marcia Mercado, Sr. Maureen Catabian and Sr. Ananita Borbon. The committee also asked two consultants to help the committee, Sr. Victoria Joson and Sr. Loreen Granada.
Program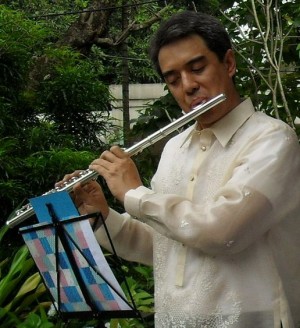 The blessing of Museum Idyll on October 30 began with a call to silence led by Mr. Ray Sison, principal flutist of the Manila Symphony Orchestra. He was accompanied on the piano by Sr. Pia del Rosario RGS.

Photo: Mr. Ray Sison
Sung by Dulce

1)

The years had left scars, the scars had left pain. How could he recognize me? I wasn't the same, I knew I should pay, I knew the price, for justice and law demanded by life. But his tender heart heard my desperate cry, and he saw my past through merciful eyes.

Refrain
Beautiful that's how mercy saw me, though I was broken and so lost, mercy looked past all my faults. The justice of God saw what I had done but mercy saw me through the Son, not what I was but what I could be that's how mercy saw me.

2

Wherever you've gone, you can't go too far that his eyes of mercy can't see where you are. He loves you too much to leave yu alone, you're flesh of his flesh and bone of his bone. And his heart cries out for your heart today. See yourself through his eyes, then you will say sin has stolen my dignity and all my self-esteem, but I was made brand new again when mercy looked at me.

Refrain
Beautiful that's how mercy saw me, though I was broken and so lost, mercy looked past all my faults. The justice of God saw what I had done but mercy saw me through the Son, not what I was but what I could be that's how mercy saw me.

Not what I was but what I could be, that's how Jesus saw me.
Sr. Maureen Catabian who was the emcee of the program held at the Christine Hall, introduced Ms. Marian Pastor-Roces who gained international acclaim as curator of museum for various groups in the world. She also shared that the building for Museum Idyll was used at various times in the past as robery, aspirants' quarters, herbal center, guestroom and also garage. When the building was renovated to be used as museum most of the materials used came from the Heart of Mary Villa in Malabon whose nursery, residence and convent are now located in Quezon City.

Ms. Marian who studied elementary and high school at St. Bridget College said she did not do the project out of nostalgia but because she believed in the work of Good Shepherd Sisters for women and children. She said that in the 100 years of the congregation in the Philippines, the sisters have done quietly the work of giving dignity and in uplifting the lives of women.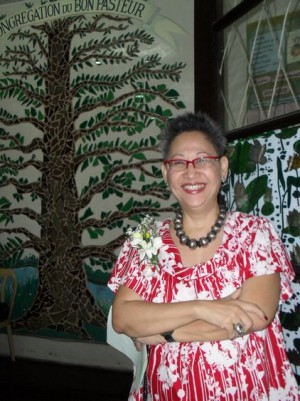 Photo: Ms. Marian Pastor-Roces

In her Introductory Message, Marian said, "I know that your congregation has enabled, dealt with, coped with, some of the most challenging and horrible problems of the world. I know that for a very long time. And I know that you are a congregation that has never actually told the story yourself, it has actually been quietly done, for a hundred years. I know that you have very quietly, helped women, even before feminism. I know that you have not stopped in the midst of really horrible things and that you have made horrible things into incredible and beautiful outcomes. To me as a person who thinks about these things professionally, I believe your story needs, not only peripheral place in Philippine society. This is a story that is central to Philippine history and I am not saying that for nostalgia... Yours is a story of helping those who cannot be helped by others."



"So what kind of museum does this deserve? I did not think it is a museum that elevates and projects importance. I did not think that this is a museum that projects celebration. It seemed that the kind of story that you have can be said in a kind of contemplative place. A place for meditation, a place that is poetic, instead of big self-important looking project to show how important you are. I thought it is more appropriate for a museum to spark the imagination, to spark memory. So you will find that it is a garden, this is Phase 1... So we have begun, a little bit, hoping that some people will assist you in creating a very vast museum that is not a building, but a garden."

Marian said that there are three things important that are necessary in coming up with a museum, artifacts, documents and money. And she noted that the Good Shepherd Sisters do not have enough artifacts that would merit a museum, it has very little documents and that it has no money to finance a museum.



Photo: Untying of ribbon to formally open Museum Idyll is led by Srs. Marites Pomar and Cecilia Torres.


"That is a very big problem. So how do you make a museum that has no artifacts, no records and no money?"
The garden idea was a good idea because the people are happy to give flowers, to give plants. All we need to do is to organize the plants. So that's one way. So here in this meditation garden, there are plants that will just evoke. When people talk to you here, when they ask why are there so many mil flores (mille fleurs) here. It's because those are the flowers of Angers."
Inside the museum, were several plinths representing the different foundations of Good Shepherd Sisters. One plinth has an old telephone on top because the community, Welcome House, from the very beginning received calls 24 hours a day from women in crisis. Another has a milk can, because in Banawa Hills, Cebu City, Sisters experienced water crisis when the waterworks system was not yet operating efficiently and they had to do was draw water somewhere using tin cans. (Please read transcript of Message)
Photo: Sr. Abel and Sr. Lyn, holding pots with incense, lead the sisters and guests to Museum Idyll.


A Song, "Mercy Saw Me", was the psalm during the blessing. Sung by award-winning singer Dulce, it expresses the mercy and tenderness of God and dream God has for each one.
The ritual followed where the sisters and guests chanted an indigenous song, while Sr. Anallynn Esguerra and Sr. Arabella Balingao from Kalinga danced towards Museum Idyll. Sr. Marites Pomar of the Congregational Leadership Team's contemplative council and Sr. Cecile Torres, Province leader, untied the ribbon that opened to the garden of Museum Idyll. Those present gathered around the globe-- the centerpiece of the garden—while Ray Sison played a beautiful rendition of Salmo 23. The dancers carrying pots with incense, proceeded to the building, Sr. Cecile blessed the museum and others followed to view the displays.



Photo: During the opening ritual, sisters and friends face South and the three other directions.


Sr. Susan Chia, link councillor of the Congregational Leadership Team, who is in the Philippines to facilitate an Asia-Pacific Formators' Training in Tagaytay, was also grateful to be part of the opening of Museum Idyll and to be able to see through the museum the works done by Good Shepherd Sisters.
The group returned to Christine Hall where Sr. Ananita Borbon acknowledged the work of Ms. Marian Pastor and TAO Management Inc, the guests Artists, Atty. Antonio Pastor, Mr. Ray Sison, Dulce and Sr. Pia del Rosario RGS.
Photo: Atty. Antonio Pastor plays Mozart's "Marcha Turca."

Cocktails and special performances of the guest artists followed. Atty Antonio Pastor who played the piano, quipped that the piano at the convent "looks like a harpsichord, sounds like a harpsichord so I decided to play Mozart's "Marcha Turca" which is best played on a harpsichord." He dedicated it to Sr. M. Dorothy O'Connor, his first piano teacher. Dulce sang "Usahay" and sang with Atty Pastor, a tenor the song "Maalaala Mo Kaya?" Ray Sison played on the flute "Dahil sa Isang Bulaklak' accompanied by Sr. Pia del Rosario.