Submitted by

superadmin

on Tue, 06/15/2021 - 13:50
The feast of Blessed
Maria Droste last June 8, 2021 was a time to go into the deep again, both in
terms of our chapter journey and also into the crisis the world is still facing at this moment, the pandemic and
its consequences. In prayer, we held in our hearts and offered to the Divine
Heart of God, fount of grace and mercy, our thanksgiving and supplications
keeping in mind particular situations that cry for relief and end.
Last February, the
congregation launched the second phase of our chapter preparation journey heeding the call of the ICAs to go deeper into the journey of transformation.
The first video sent by the Chapter Core Team (Sr Catherin Schneider, OSF,
Donna Fyffe, Hilary Musgrave and Monica Brown) introduced us to the "integrative
process of transformation" and the second video sent gave us tools that can
help us respond to the call of the heart to radical transformation: "Heart
Wisdom" and "Journey to the Heart".
Both sisters and lay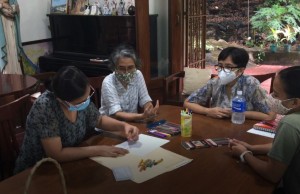 partners were
encouraged to use these reflection processes that involve journaling and
rituals. Our June 8 liturgy provided us a venue to share our encounter with God
through these processes. Through individual or collaborative artworks we were
able to express the journeys of our hearts.
As pointed out to us by
the Chapter Core Team, the "centrality of the Heart" is one of the most
striking aspects of our charism. From their writings and through the witness of
their lives, St John Eudes, St Mary Euphrasia, Blessed Maria Droste and even
Blessed Marie Therese de Soubiran, we have learnt of the richness of God's great
heart, the depths of His infinite mercy that can touch and transform the
darkest and hardest of situations.
With faith and hope, we
entrust to our Shepherd's Heart the people most suffering at the moment due to
sickness, poverty, violence and death brought by the pandemic and political
unrest and we also surrender to Him our own personal and communal blessings and
struggles as sisters and lay partners journeying towards transformation.
Some photos of the prayer activity and the artworks of the communities:
| | |
| --- | --- |
| Baguio Community | CGS Tagaytay |
| Naga Community | Provincialate Community - Grp A |
| Provincialate Community - Grp B | Villa Maria Cebu Community |
| | |
| --- | --- |
| SBC Batangas Community | Artworks of Sisters (SBC Batangas) |
| | |
| --- | --- |
| CGS Cebu Community | CGS Virac Community (sisters and lay partners in prayer) |