Jubilee Celebration on Good Shepherd Sunday
"A Heart Created to Love and to be Grateful":
Jubilee Celebration on Good Shepherd Sunday
Ten Sisters celebrated their Jubilee of Profession last April 22, 2018, Good Shepherd Sunday: two Diamond Jubilarians - Srs. Mary Regina Pil and Mary Aime Olaguer; five Golden Jubilarians - Srs Mary Tomasita Antigua, Mary Luz Bantilan, Mary Rosario Battung, Mary Stella Mangona and Mary Rebecca Rogacion; and, three Silver Jubilarians - Srs Maria Arabela Balingao, Mary Lea Comia and Mary Regina Kuizon.
The main presider of the mass was Fr Vic Baltazar, SJ, joined by other priest friends. In his homily, Fr Vic affirmed how the ten celebrants truly know the Shepherd "because their hearts have always carried the heart of the Shepherd who continues to care for his people through the very offering of their lives". He also mentioned the would-have been Golden Jubilarian, +Sr. Mary Concepcion Conti, who died when MV Cassandra capsized in 1983 and who, with our other three sisters, were seen distributing life vests until none was left for them. Indeed, a true shepherd who laid down her life for the sheep.
In her message, Sr Mary Regina Kuizon, Province Leader and Silver Jubilarian, pointed out the significance of our celebration as the Philippine Church observes the Year of the Clergy and Consecrated Life and the Congregation, the 150th Death Anniversary of Mother Foundress.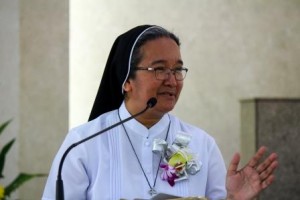 She emphasized how each of us is continually called to live our prophetic role amidst challenges and difficulties. Message of solidarity was conveyed to Sr Patricia Fox, a Daughter of Sion missionary sister from Australia, who has recently experienced harassment from government authorities even after 27 years of work with the marginalized in the Philippines.
Full text of Sr Lulu's Introduction
2018 Jubilee Celebrations of Religious Profession
Silver, Golden, Diamond
JUBILEE! In Scripture, we hear of sounding of horns. Return to the ancestral land. Release from bondage. A year of the Lord's favor. . Thanksgiving.
Today we mark Religious Profession first made 25, 50, 60 years ago. Initial fervor and passion of the young. The "YES, LORD!" given to the God of one's youth. In the year of Consecrated Life (2015), Pope Francis invited consecrated persons to go through Three Moments of our Consecrated Life to retrace where God has taken us through the unfolding of His plan through history. (We will use the Three Moments to reflect on the Meaning of this Jubilee for us.)
1. The first moment is: to look to the past with gratitude. With our Sisters Aimee and Reg; Luchi, Rivkha, Rosie, Stella and Tomsita; Abel, Lea and Gina, we look back to a long history rich with the Charism of Mercy and Compassion and a Mission of Reconciliation. Each one of our 10 Sisters -- your daughters, sisters, aunties, cousins, "Lola Titas", friends – spent years as young religious in our residences and centers for girls and young women in the GS tradition of CARING. Later the Church presented other agenda for Consecrated Life: Vatican II, FABC, Plenary Council of the Philippines II. The Church in the world. Churchof the Poor. Closer to our times, PASSION FOR CHRIST and PASSION FOR HUMANITY. This meant to follow Christ more closely, to translate the Gospel in the particular way given to our Founder and Foundress but creatively according to the needs of the Church and the signs of the times. Our Sisters gave their creativity and initiative to the enrichment of our charism. So from "taking care of the girls and making them very happy ", our Sisters had to be concerned with laborers and peasants, political detainees, the children-at-risk, trafficked girls and women, working students and poor families who needed to learn practical arts , to have work and employment to meet basic needs of food and housing . from our residences and schools, to the wider community to the parish. As life became more complicated for the young people, new approaches to counseling were asked for. Our Sisters responded with peer counseling in public schools. Inroads to government structures and offices were also made to ensure not so much competence but morality and integrity in public service. Role and place of women in Scrtpure, Philippine History and Mythology; Asian Spirituality, Zen. Care for the Earth was placed in our spiritual and ministry agenda long before Laudato Si became a catch-word for concern for our common home. Amid all these concerns at home, the call of the Good Shepherd in mission lands was also responded to by our jubilarians. The younger jubilarians ,bridge between the early post-Vatican II era of RGS and the present generation, have brought their God-given gifts into new forms of leadership and formation for the future. The "First Moment" gives us reasons for thanksgiving to God – for the grace of being called by the Good Shepherd to join him in Shepherding his flock. For our Sisters being faithful to the Call, a fidelity marked by creativity and even audacity in the face of difficulties and trials. For indeed there were many hills and rivers to cross, valleys of deep darkness to go through. As Pope Francis suggested, we look back humbly to moments of inconsistency, the result of human weakness, and even at times, a neglect of essential aspects of the charism. Yet remembering them now acts as a summons to conversion and to experience the Shepherd's merciful love. At this time of Jubilee, to tell the story of our Sisters, is to praise God and to thank him for all his gifts, especially his constant Faithfulness and abiding love!
2. This Jubilee calls us to live the present with passion. The question that Pope Francis suggests we have to ask ourselves today – 25, 50,60 years after profession: IS JESUS REALLY OUR FIRST AND ONLY LOVE, AS WE PROMISED HE WOULD BE, WHEN WE PROFESSED OUR VOWS? Only if he is, will we be empowered to love, in truth and mercy, every person who crosses our path. As our Sisters answer the question in their hearts, we remember the words of St. John Eudes "A person is of more value than a world." And St. Mary Euphrasia's :"The glory of God and the salvation of souls, this is my life." Significantly for us, this year we mark the 150th anniversary of the death of our foundress St. Mary Euphrasia. Our CLT invites us to "remember with gratitude the heritage left us by St. M. Euphrasia at her death on April 24, 1868. She who was a faithful daughter of St. John Eudes, desired ardently that the whole world benefits from the work of salvation begun by him who said: ' the loving heart of Jesus is a furnace of love, he gave us his own heart so that we could love one another." Is Jesus your first and only love? If he is, we can love with his own heart.
3. To embrace the future with hope should be the third inspiration of this celebration. After the first Two Moments, our hope is based in the one in whom we have placed our trust. In a faithful God! In sharing the story of our 10 Sisters , their hope becomes our hope. Because we can hear in our own lives, the Lord, our Shepherd who continues to tell us: "Be not afraid . . . for I am with you!" On this day of Jubilee, the assurance is repeated: Surely goodness and kindness will follow you all the days of your life and you shall live in the house of the Lord forever. It is Jubilee time! Let us thank our Shepherd God! Let us celebrate!