A Tribute to Sr. Marcia

By Nelie Antigua, MD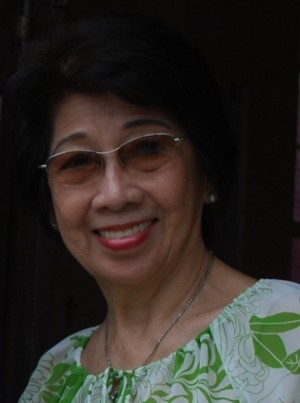 Dr. Nelie Antigua

My memories of Sr. Marcia are treasured in my heart. If I mention them all, it would take too long. What I can say is that what she did for the streetchildren here she also did it to my own children in their growing up years.

Beautiful memories never fly away...
They stay with us,
They comfort us
forever...

Anyway, when I informed my children about Sr. Marcia being gone, one of them, Michael, wrote something which I think has fully expressed what she and the other three Sisters have done for my family. So now, this is a tribute not only for Sr. Marcia but also for Sr. Estelle, Sr. Immaculata and Sr. Tomasita.

Let me read Michael's letter:

Dear Tita Nene, Uncle Frank, Uncle Landing and Auntie Gem,

I just wanted to express our sadness at the passing of your dear sister, our aunt, Tita Inday.


Photo, taken during the Great Jubilee 200O Homecoming: Antigua Sisters, from left, Sr. Marcia (Anunciacion), Tomasita, Estelle (Leonor), Immaculata (Salud).
I remember vividly how she, Tita Estelle, Tita Alok and Tita Nene would visit our home in Brookside, Cainta, during our early years, and even before that at the rented house in Taft Avenue, on different occasions. We enjoyed each aunt's company, and the small little gifts that they never failed to bring for us, which were acquired from different parts of the country, and in some cases from other parts of the world, especially Hongkong from Tita Nene.

Our childhood was so full of memories of all of you, the Sisters who provided sage advice, maternal love, caring thoughts and fervent prayers that me and my siblings would all turn out fine, despite growing up without our father. The stories about our Dad that each one of you shared with us while we were growing up helped give us an idea of what kind of man he was and why he was loved in Mactan.

Truly, we managed to pull through with the Sisters' ( and God's) divine intervention that we would never stray. And I'm sure it helped Mom a lot, because she was able to raise all five of us with God's help and guidance and all four Sisters' blanket of comfort and faith.

Tita Inday and the rest of the Sisters really helped form a huge part of our values and our way of thinking, and especially of how we were taught to revere God and the sacraments, and to never forget our roots and family in Lapu-Lapu City.

I cannot fully express my sadness at Tita Inday's passing, but I am comforted by the fact that her suffering has ended and she is now in the arms of her Protector. How we wished to have spent more time with her in the last couple of years. But I guess life, with all its necessary tasks and situations, has a way of rendering one incapable of reaching out and making an effort. I know that's not an excuse.

Last week, when Mom said that Tita Inday would be having an operation, we asked our girls to pray for her speedy recovery. Alfie, the youngest, couldn't quite recall which among the Sisters she was, so she said she'll just pray for all four.

We've always kept her in our hearts and thoughts throughout her ordeal. We said a prayer last night when Mom texted that Tita Inday had not recovered from the cardiac arrest.

That is how I remember her: a member of the four Sisters who formed the spiritual nucleus of the Antigua clan, deeply rooted in Lapu-Lapu City, but with comforting arms that reached out across continents and kept my Mom, all five of us, and our families, safe and warm, and strong with their faith.

Our deepest condolences.

Love,
Michael
With Me-Ann, Sabine and Alfie

Note: Michael is the fourth of my children and he was only 1 1/2 years old when Boy died. The Sisters were around during his formative years until high school. He is married now with two grown up girls.