St. Bridget School Buhi holds Ecological Days
In promoting the Women Justice, Peace and Integrity of Creation (WJPIC) thrusts of the Congregation, St. Bridget School in Buhi Camarines Sur celebrated Ecological Days with the theme, "Nature Cares, Nature Heals, Let's Do Our Share," on November 3 – 4, 2010.

Photo: Landscape, Buhi, Camarines Sur
The activities, participated in by all the students, faculty and staff during the two – day celebration included film showing, talk on global warming and climate change, tree planting, clean up walk and Ecological game show.


Sr. Ananita Borbon RGS, principal of SBS Buhi said the activities drew a lot of support from the students and faculty of the school. SBS also coordinated with various agencies that provided various resources for the celebration.

Photo: Sr. Ananita with SBS students and faculty.

Below is the schedule of activities:
DAY 1: November 3, 2010
· Film Showing – Signos and Gintong Itim
· Talk on Global Warming and Climate Change was given by BBWAT (Buhi Barit Watershed) a government agency responsible for the preservation of Watershed in Camarines Sur
· Signing of Memorandum of Agreement by SBS – Buhi represented by Sr. Anya, the School Directress / Principal and Mr. Ruel de Claro of BBWAT was done – this MOA is for the tree planting activity of the school
· A symposium was held in the afternoon with Engr. Virgilio Perdigon Jr. from the Aquinas University, Legaspi City as the speaker. He discussed the Ecological Situation in the Bicol Region.
DAY 2: November 4, 2010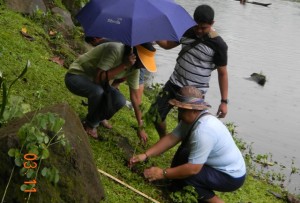 · Tree Planting was done in the lakelet of San Ramon, which is considered as the Sinarapan Sanctuary (Sinarapan is the smallest edible fish in the world)
o Tree planting activity led by Sr. Anya and the WJPIC Committee of the school together with the SBS Staff, and non – advisers and the BBWAT personnel
o 50 selected students from 1st year to 4th year also joined the tree planting activity
o They planted 100 Acacia seedlings
· Clean – up Walk was participated by the rest of the student body together with all the adviser. They brought with them sacks which served as containers for the trash they picked up as they walked along the streets of the whole Buhi municipality.
· Ecological Game show in the afternoon of the second day was enjoyed by everyone
· Closing program displayed talents of the students and faculty integrating the value of promoting the INTEGRITY OF CREATION.
View: Photo Gallery: SBS Buhi
Reports from Sr. Ananita Borbon RGS and SBS-Buhi
Photos by Sr. Ailyn Binco and SBS Buhi