Sr. Virgo marks silver jubilee as RGS
Sr. M. Virgo Espineda celebrated her 25th year as a Religious of the Good Shepherd during a Mass on Pentecost Sunday, June 8 at the Good Shepherd Home in Naga City.
Presider of the celebration was Fr. Vincent Concepcion, parish priest of the Nuestra Señora de Catipanan (Our Lady of the Covenant) parish in Nabua, Camarines Sur.
Present during the celebrations were the members of the RGS Naga Community led by Sr. M. Lea Comia, Sr. Virgo's mother and siblings who came all the way from New Zealand and New York, USA, the staff of Hablondawani Counselling Center and the girls in the residence.
Sr. Virgo was born on July 11, 1962 in Sorsogon, Sorsogon City. She is the youngest of five children of Felix Espineda and Consolacion Gabat.
She studied elementary and high school in Sorsogon and finished Bachelor of Science in Medical Technology from the University of Santo Tomas in 1983. Responding to the call to religious life, she joined the pre-novitiate in 1985, entered the novitiate in 1987. On May 31, 1989, she made her first profession of vows in Quezon City. Her perpetual profession of vows was held on May 31, 1994, also in Quezon City.
Sr. Virgo has helped in the different ministries in particular for women and children of the Good Shepherd congregation as counselor, group mother, music teacher, values education teacher, community organizer, program coordinator, local community coordinator, among others. She has helped in the accompaniment of trafficked women in New Zealand and has been involved in the ministry to migrant workers in Italy.
Before her assignment in Naga, she served as local leader of RGS Pagadian community.
Photo: Sisters sing St. Mary Euphrasia's Aspiration (Mithiin).
COME, HOLY SPIRIT, FILL THE HEARTS OF YOUR FAITHFUL AND ENKINDLE IN us THE FIRE OF YOUR DIVINE LOVE.
Introduction before the Eucharistic Celebration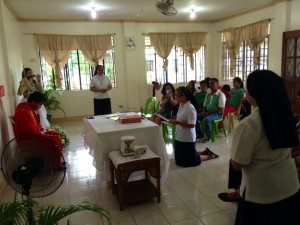 by Sr. M. Angelina Sanchez

This morning, as we gather here, we celebrate three very special occasions. First and foremost, we commemorate the first coming of the HOLY SPIRIT UPON THE APOSTLES which we call PENTECOST. Second, the feast of BLESSED MARIA DROSTE ZU VISCHERING, a Good Shepherd Sister born in Munster, Germany also known as SR. MARY OF THE DIVINE HEART. Third, the blessing of the 25 years of our dear SR. MARY VIRGO ESPINEDA as a Good Shepherd Sister.
Indeed today is a day of rejoicing, a day of thanksgiving for the wonders God has done for us, a day of gratitude for God's amazing love and fidelity, a day of recommitment to this LOVING GOD.
It is also a day of special thanksgiving for the presence of the family of Sr. Virgo for giving her with love and generosity to the Good Shepherd Congregation. Today she feels deeply the intimate embrace of love and support from Mama and her siblings. It is, indeed, a family reunion for them.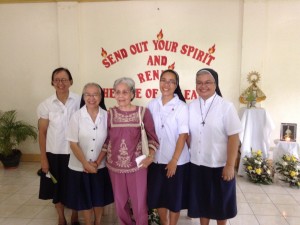 Photo: From left, Sr. Elenita Belardo, Sr. M. Angelina Sanchez, Mrs. Consolacion Espineda, Sr. M. Virgo, Sr. M. Lea Comia.

With deep joy we join Sister today in thanking God for the gift of her Good Shepherd vocation . All these past 25 years have been for Sister Virgo a passionate journey to God through a life of love and zeal for the poor, the oppressed, those afflicted with human weakness. Because she herself has experienced the merciful love of Jesus, the Good Shepherd, she has given her life to the lost, the strayed, the injured to bring them to the Heart of Jesus and restore in them the beauty of God's image and dignity of God's children. "United with all people in their struggle with sin and their need for reconciliation," Sister has witnessed among them the power of God's mercy, promotion of justice and peace, and integrity of creation.
Let us make present in today's Eucharistic celebration all those who have been a part of Sister's life and transformation and those whose lives she has touched especially the girls, women, families and communities to whom she was a presence of Jesus the Good Shepherd. May the Holy Spirit continue to set her on fire with love and zeal for the glory of God and the salvation of persons. Let us join her in singing…
AS I SING MY HEART'S THANKSGIVING AND MY EYES LOOK HEAVENWARD… WHAT AM I THAT YOU SHOULD LOVE ME AS YOUR DEAREST LOVE OF ALL.