Pakigduyog sa Igsoong Lumad (Joining our Indigenous Brothers and Sisters)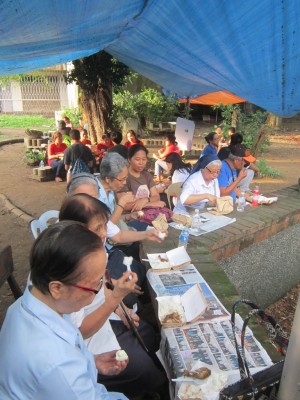 The Good Shepherd communities in Quezon City Philippines heard the cry of the Lumad representatives, with their teachers & elders to "Save Our Schools".
Lumad communities, with no help from the government, built their alternative schools in Mindanao to pursue dreams for their children, but suffered discrimination, harassment and more recently the spate of killings of leaders. Thus on July 31, 2017 about 300 lumad students, teachers & parents journeyed to Manila to assert their rights & call the government to stop the attacks on Lumad communities. The University of the Philippines, Quezon City, received the students where they continue to hold classes at the International Center, called their "Bakwet Lumad School," where the cramped rooms are their bedroom and school room. The University Chancellor treated them to a whole day in the swimming pool to their delight. A big tent is their cultural gathering hall. But they are so grateful for all this support, with visiting teachers and guests providing them additional training in arts, drama and other skills.
| | |
| --- | --- |
| | |
A 12 year old boy shared how their teachers & friends, who helped their schools, were killed or imprisoned with false charges. Some of the schools were burned or occupied by the military. This was compounded by the President's threat to bomb them.
In response, the Good Shepherd Sisters mobilized the different communities in the compound to prepare 300 packed food, with donations from St. Clare Monastery, the Sisters and their friends. On August 28, 2017 the volunteer servers witnessed the Lumad's culminating program to celebrate "Linggo ng Wika" or Pilipino Language. The sisters & friends saw how bright and confident the student teams. How open and friendly were their relationships with their teachers and visitors. The visitors were touched in the drama, songs, poems and dances the replay of their experiences and their plea that they are not criminals but they are people of dignity, peace and partners in the assertion of the rights to self- determination and protection of culture and land.