Training on Organic Agriculture held in QC
An Organic Agriculture Training using (Likasaka) Natural Farming Technology was conducted last September 17-18 at the Rosary Hall of Good Shepherd Community, 1043 Aurora Blvd. in Quezon City.
Photo: Carmen Cabling and the participants
Edgar Alcala and Carmen Cabling were the resource persons invited by Sr. Florence Bautista RGS during the training attended by Good Shepherd Sisters, the novitiate and prenovitiate, lay staff of the communities in 1043, lay affiliates and friends. The couple, who run the Linangan ng Kalikasa sa Sadyaya (LIKAS) in Brgy. Bugon, Sariaya, Quezon, who gave a comprehensive were also assisted by friends who shared in the liturgy, the sessions and in the demonstration.
Participants of the training said that they were encouraged to attend because they were interested in organic food and organic medicine, they wanted to help develop backyard gardening and they were drawn because of their love for mother earth.
During the first day, Carmen differentiated organic farming from chemical-based agriculture. She also compared the physical appearance of IMO (Indigenous Micro Organism) enhanced compost and regular compost, discussed the proper utilization of IMO enhanced compost. Other topics included processing and proper utilization of fermented fruit juice to ensure maximum results in caring for leafy vegetables.

Photo: Good Shepherd Sisters, staff, lay affiliates and friends join the training.

Carmen and Edgar emphasized that what is needed to enable maximum plant growth is constant supply of even a very small but balanced amount of nutrients over time, and the unobstructed access of plant's roots and leaves to these nutrients.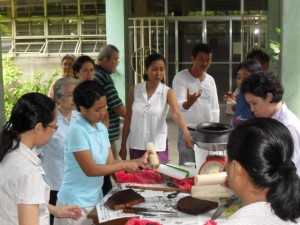 A list was also given that enumerated which vegetables may be planted side by side with another in the garden and which should not be planted close to the other.

Photo: Hands-on training
The second day was hands-on training on preparation of IMO enhanced compost, fermented fruit juice, fermented plant juice, vermi-tea and lactic acid serum (LAS) that disinfects soil and plants from disease-causing microorganisms.
(RK)