Keeping safe as Taal Volcano erupts
Taal Volcano located in Batangas province and is seen from Tagaytay City erupted on January 12 spewing ashes not only in Batangas and Cavite provinces but in Metro Manila and other provinces as well.

Called a phreatic eruption, it is a steam-driven explosion that happens when magma heats the ground or surface water.

File Photo of Taal, seen from Maryridge
Taal volcano is about 70 kilometers from Manila, and from Maryridge Retreat House in Tagaytay, it is about 17.1 kilometers (and 30 km. via Talisay Road).
The Taal Volcano and lake are a favorite destination sites of tourists who brave the four kilometer trek on foot or horseride from the shore of the island to the lake crater; it is a lake within a lake.

Crater of Taal Volcano, 2015
Reports said that the volcano was being monitored since March 19 but its eruption on Sunday, January 12 really came as a surprise because of its speed, making people unprepared to evacuate immediately.
According to the Philippine Institute of Volcanology and Seismology (PHILVOLCS) volcano had powerful eruptions before -- the eruption in 1754 lasted six months, while its deadliest eruption recorded took 1,335 lives in 1911. In 1965 Taal erupted again killing 190 people, and continued to have four more minor eruptions in the years since. Its last eruption was in 1977.

Taal Volcano's eruption has caused concern from Good Shepherd Sisters and lay mission partners in the Province of Philippines-Japan but also from those in other countries who have visited Maryridge and the contemplatives in Tagaytay. Messages were received from all over the world asking about the safety of those in the area.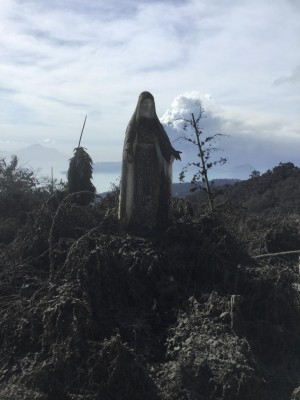 Sr. Jeva Sumbillo, local leader, and Sr. Christina Sevilla of Maryridge said that in the two communities, of Maryridge and the Contemplatives, sisters are safe. Several sisters – Srs. Aimee Olaguer, Sr. Joseph Olaguer, Sr. Marie Goretti Bool and Sr. Imelda "Boots" Santos were brought to Manila on January 13 as the ashes could cause health problems. Sr. Josefina Stella, local leader, and Sr. Marites Pomar of the Contemplatives opted to stay but will evacuate when necessary.

Architect Eli Aguilar and his team have helped in evacuating the sisters and in the clean up of debris. Maryridge is being renovated in time for the 2020 Province Chapter.

The statue of Mary, covered with ash after the Taal Volcano eruption. (Photo courtesy of Sr. Christina Sevilla)

Sr. Lita Clemen of the Preparatory Committee was supposed to take a flight to Japan on January 13 for the Japan Assembly but flights were cancelled. She and the other sisters participating in the assembly were able to travel on January 14. Sr. Marcia Mercado, province secretary, Sr. Tess Figueroa, Sr.Lita of the PrepCom and Sr. Regina Kuizon, province leader will join the sisters of the communities of Toyonaka (Osaka), Enzan (Yokohama) and Sendai during the assembly.

Sr. Ellen Kelly, congregational leader has sent her message assuring us of prayers for the sisters and lay mission partners and for the Philippines. Link councillors Sr. Frances Robinson of the apostolic sisters and Jude Ellen Golumbieski also wrote expressing their concern.


Province leaders from Asia Pacific Circle also sent messages, recalling the many occasions to meet at Maryridge for regional sessions and formation. After the APC meeting in 2015, the province leaders also had the rare opportunity to cross the lake by boat and trekked four kilometers to view the crater of Taal Volcano.

Sisters and girls and women in the residence and schools in Bukid Kabataan, St. Bridget College Batangas and St. Bridget College Batangas are also safe. Apostolic and contemplative sisters of the Good Shepherd in Philippines-Japan with lay mission partners in the Philippines and elsewhere, have continued to pray for the safety of everybody.
With the many people affected by the eruption of Taal Volcano, St. Bridget College in Batangas City also launched a campaign to raise funds and solicit goods to be given to those in evacuation centers in Batangas and Cavite. Sr. Clare Bagot RGS, president of SBC and Sr. Celeste Yuzon RGS, local leader of SBC, have been going with the teachers and staff of SBC to the evacuation centers.
Thank you very much to all who offered prayers and sent messages of concern, and supported the program to help those affected by the volcanic eruption and staying in evacuation center.
For Donations to those affected by Taal Volcano eruption and are in evacuation centers:
Metrobank, Batangas City Main branch; Swift Code: MBTCPHMM Account name - St. Bridget College; Savings Account No. 143-3039292394.
Please send text to Sr. Celeste Yuzon (09158980013) or Sr Clare Bagot (09777464091) the name of donors, the amount and when deposited, so they can acknowledge.

or call
LANDLINE of St. Bridget College-Batangas City : 0 43 984 13 95 (Office of the President);
0 43 723 18 21(Convent).

Thanks.