Organic strawberry "fields" at Good Shepherd Baguio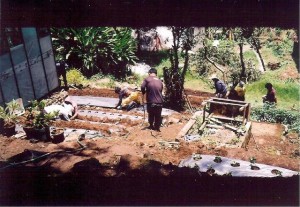 The Good Shepherd Convent in Baguio City has begun organic strawberry "fields" in its backyard. This was known from Sr. Guadalupe Bautista RGS, local leader of the Good Shepherd Sisters in the city.

Photo: Farmers prepare the soil
She said that in May 2010, the staff of Mountain Maid Training Center (MMTC) and Good Shepherd Sisters attended a two-day workshop on Organic Farming conducted by Professor Balauing of Benguet State University. The workshop, Sr. Guadalupe said, "inspired the participants to experiment on organically grown strawberries in our garden."
Photo: Organic Strawberry fields

This is an experiment with and a partnership between the 31 members of the Strawberry Growers Association in Trinidad and MMTC which produces strawberry jams and other items in Baguio. The Strawberry Growers Association in Trinidad, Sr. Guadalupe explains, supplies MMTC "with tons of strawberries every year for our jam making."
In doing the project, Sr. Guadalupe said, "We use only organic fertilizer and pesticide from our vermi composting. The farmers prepared the soil, provided the seedlings. Our share is the land, mulching materials, tunneling, watering and upkeep." The Trinidad farmers, she said, "every so often visit the plots to see the progress of the strawberries.
The farmers agreed to use Good Agricultural Practices (GAP) in growing their strawberries.

Photo: Strawberry farmers
Here are the photos from the soil preparation to the plate of fresh organically grown strawberries.

View: Baguio Photo Gallery
| | | |
| --- | --- | --- |
| | | |
| Strawberry fields | Strawberry farmers during their meeting | |
| | | |
| Strawberries | A plate of organically grown strawberries | |