2010 Holy Week Services at 1043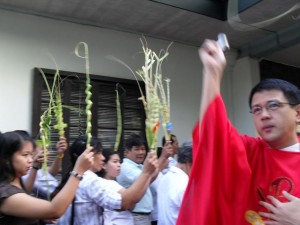 Holy Week services are being held at the Good Shepherd Convent, 1043 Aurora Blvd. in Quezon City.

Good Shepherd Sisters, friends, associates and staff celebrated Palm Sunday with a procession that began from the Provincialate to the Good Shepherd Chapel. Presider of the celebration was Fr. Rivera SJ.

Photo at left, Palm Sunday celebration

Several Good Shepherd communities are located in Aurora Blvd: the Provincialate, Good Shepherd Community, Bahay Ugnayan, Euphrasian Community, St Bridget School Community and Formation communities including the juniorate, noviate, pre-novitiate and aspirancy.

Good Shepherd Sisters from other communities and countries who are in the Philippines for studies, and other religious congregations also join the celebrations,


Schedule of the services is as follows:
2010 HOLY WEEK SERVICES >
Good Shepherd Convent
1043 Aurora Blvd. Quezon City

Palm Sunday Mass
March 28
7:00 a.m.

Mass: Monday to Wedneday
March 29-31
6:30 a.m.
Holy Thursday, April 1,
Mass of the Lord's Supper
5:00 p.m.

Good Friday, April 2
Veneration of the Cross
3:00 p.m.

Holy Saturday, April 3
Easter Vigil
10:00 p.m.

Easter Sunday Mass
April 4
7:00 a.m.


Office of readings and morning prayers during the Holy Week are held in common.

View: 2010 Holy Week Photo Gallery