(Below is the presentation given by Sr. Guadalupe Bautista RGS, one of the resouce persons who shared during the October 20-21, 2011 convention, "Social Enterprise: The Next Business Model," held at the Intercontinental Hotel in Makati City.)
The Mountain Maid Training & Development Foundation, Inc. of the Good Shepherd Sisters in Baguio City. The Good Shepherd Sisters is an international NGO in consultative status with the
United Nations' ECOSOC (Economic and Social Committee).
Journey from Charity to Social Enterprise
Introduction

A trip to Baguio would not be complete without stopping at Mountain Maid Training Center for the yummy products of ube jam, strawberry jam, peanut brittle, lengua de gato and alfajor cookies. For many Baguio visitors, only one brand of ube halaya is worth bringing home as pasalubong. These jars of sweet, creamy, purple yam treat is one of the reasons behind the crowds lining up, waiting patiently to this "food for the soul".
Thanks to the winning formula of availability of raw materials, culinary talents, motivated work force, quality products, market insight and superior strategy for helping the poor, what began as a rolling store then a cottage industry is now an enduring and sustainable social enterprise.
What is the story behind this sought after "blessing in a bottle", "divine dessert",
"berries full of grace"?
Beginnings
In 1952, seven years after the Second World War, the Good Shepherd sisters opened their mission to the youth of the Cordillera. The youth served then were orphans from the war, children at risks and troubled teenagers. How to feed, clothe, educate these economically and emotionally challenged youngsters?
Food became a major concern as the sisters basically relied on donations from supporters and from charity. The late Sr. Margarita Heredia would go to the market daily to beg for peelings and cuttings of vegetables. The sisters realized that this was not a dignified way to live, begging for leftovers in the market. The residential school had 120 girls to feed and by then it was imperative that something had to be done.

Sr. Mary Carmel Medalla hit upon a "divine inspiration". She had a strawberry jam recipe learned from her Novitiate training in Los Angeles, California. She and her students started making strawberry jam in a small-scale volume. It had to be strawberry jam as that was what was plentiful in the mountains. Making jam was a way to ensure that you can have strawberries even way past its season.


Photo: Sr. Mary Carmel Medalla RGS




The choice of going into food development was two-fold. First, it was part of the home economics and culinary training of the girls. Second, there was that possibility of earning decent money from whatever food was made. The sisters and girls experimented with several products, not just jam. Through trial and error, hidden talents surfaced. The sisters discovered, to their surprise, they could make so many products but it was important to identify which ones had serious potential for sales.

Who Will Buy the Jam?


At the start, selling the products was not exactly easy. The sisters would call up friends and neighbors asking them to try their products and to please return the bottles after the jam was consumed. A blessing was a captive market in the tourists who visited Mines View Park near Good Shepherd convent. Through word of mouth the products became known and today they are sought after for their quality.
Unlearning, Learning From the Ethical World of Business

Going into business was not the foremost intention of the sisters. Their desire was to develop in the students the dignity and value of work so that they would be self supporting and self sustaining. As demand for the products increased beyond their capabilities, the sisters had to learn and adapt, experiment, consult experts and seek help. Here are examples of shifts:

Shift from the use

of second hand

bottles of different sizes to standardized bottles.

Pricing was guesswork because

the price of the jam depended on the

variety of sizes of the bottles.
Shift from relying on what was available in the market for raw materials to adapting the practice of Chinese traders of advancing capital to farmers

in exchange for a steady supply at a mutually beneficial

fixed and fair price.

The difference is no interest was charged.
Shift from

an all girls training center to accepting boys in the program.

Shift from scholarships to student-workers covered by Philhealth, Pagibig, SSS.
Last month SSS awarded Mountain Maid "Top Employer-Luzon North Division Medium Category".
Shift from sisters at the helm to trained lay staff who are mission partners

in planning, forecasting and organizing production processes.
Shift from labor intensive production to semi-mechanized production.

Shift from one product, strawberry jam,

to over sixty

products.

Shift from time consuming hand written receipts to Point-of-Sales (POS); from cash sales only to accepting credit and debit cards to better

serve

customers.
Shift from non-biodegradable bags to bio-degradable bags and "Hindi Ako Plastik"

cloth bags to support the integrity of creation.

Shift from a tax exempt

entity

as a cottage industry to BIR's

top sixty taxpayers of

Baguio City as a medium size enterprise.
Challenges

The 1990 devastating earthquake was our biggest challenge and opportunity. From the ruins and rubble we strengthened our system where students could earn their way to college by working at Mountain Maid Training Center. This approach gave the student-workers a bigger stake in the process and they had to learn to work for their education, balancing time and budget.
How do we manage to merge mission and social enterprise, educational goals and entrepreneurial activities? Are these two seemingly opposites of non-profit and for profit compatible? As in yin-yang, it is possible to have coincidence of opposites, complementarity of opposites. We constantly ask ourselves what is our mission? What are we about? Who benefits from what we do? When faced with hard choices, our priority is mission and we choose educational goals over entrepreneurial activities.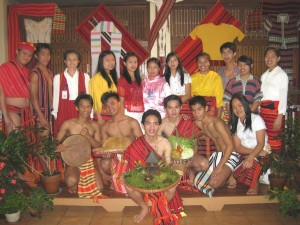 Photo: Staff and students of Mountain Maid
Unlike typical businesses we have no plans of expanding. But we do keep improving production, HRD, students' academic performance. We have resisted offers for export, on line sales, authorized outlets and wholesale of our products. Otherwise the student-workers will not have sufficient time to study and the sisters will have less time to pray. We want to remain free, not "slaves" of market demands and forces.
God's Providence

We are often asked "What is the secret of your success?" What we have are many open secrets like discipline in production, cleanliness, orderliness, good manufacturing practices (GMP), commitment, dedication, perseverance, team work, innovation, sharing blessings and value formation. Above all, the one big secret? Prayer and dependence on God's abiding providence.
What else do we pray for in terms of sustainability of which the social enterprise is only a means to accomplish Good Shepherd mission? Simply for amazing grace so we can continue to shepherd young people to live in dignity, fulfill their dreams of attaining a college education or technical training, finding decent employment in the Philippines, helping their families overcome poverty and be contributing citizens to the country.
Conclusion

Next year, 2012, we will mark 100 hundred years of the Good Shepherd sisters' presence in the Philippines. We are grateful that we will also celebrate 60 years of the Good Shepherd's weaving compassion among the peoples of the Cordillera. The youth served are still the economically challenged young women and men from the six tribes of Cordillera – Benguet, Ifugao, Mt. Province, Kalinga, Apayao and Abra.

We hope to be joined in thanksgiving by the thousands we have helped put to school, by families whose lives were made better, by the Baguio folks who have benefited from our blessings and by loyal customers who help send the Cordillera youth through college each time they patronize Mountain Maid products.
Submitted by: Sr. Mary Guadalupe Bautista, rgs
Mountain Maid Training & Development Foundation, Inc.
Good Shepherd Baguio
October 21, 2011